Andrea R talks to a pair of young sisters who are committed to ending the plastic plague on Bali.
BALI has become infamous for its piles of garbage and beachside plastic dumps, almost as much as it is famous for being a colourful and fertile tropical paradise.
At least underneath . . .
Many of us surely have imagined being at the frontier of saving this magical place from the torments of plastic and the modern world's contributions to an otherwise sustainable and well-balanced culture.
But have any of us actually done something?
Melati and Isabel Wijsen are the two fearless founders of Bye Bye Plastic Bag Bali. Not only are they brave at the ages of only 13 and 11 but they have enough enthusiasm to inspire the whole world, if it will just listen.
They are on a quest to collect one million signatures on Avaaz – a web-based campaigning community – for their petition to ban plastic bags on Bali by 2015.
Once they reach their target they intend to use the signatures to urge the government and Bali Governor I Made Mangku Pastika to implement a law that bans the use and sale of plastic bags.
The initiative has already received support from many local and international businesses and foundations.
The Dutch/Indonesian sisters grew up on Bali and even in their short time here, they have witnessed the rapid changes that are occurring on the island.
The idea for the initiative was born on a weekend last October while the family was staying in the mountains. Sitting in the middle of the jungle with only the beauty of Mother Nature around them, the girls started talking about how nice it was to be in this green environment without pollution.
When she got home, Melati – the older of the two sisters – went straight to her laptop and created a Facebook Like Page, with the name of Bye Bye Plastic Bags.
It started with one like from her self, then another from her parents, and suddenly someone they didn't know had liked the page. This gave the girls motivation to continue, and they made a video about the beauty and lack thereof on the island.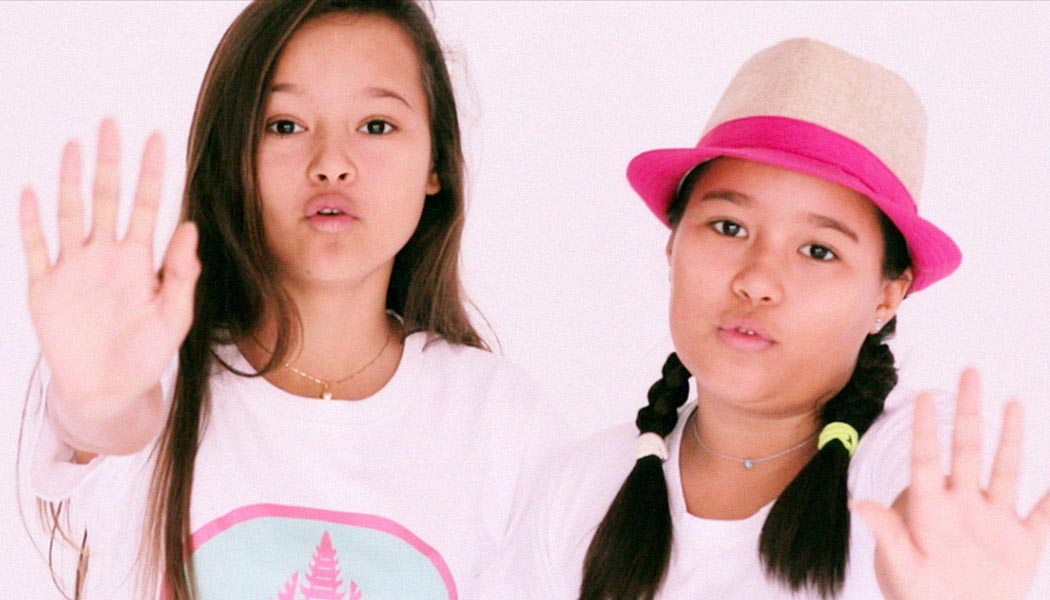 They were invited to participate at the Global Issues Networking Youth Conference in October 2013.
"We got into this process and then we got invited to the GIN conference and it all just started rolling and rolling," Melati says.
"And now we're here," Isabel chimes in.
"Sometimes it gives me goose bumps. It was just an idea. And now almost everybody we meet are like: 'Oh, you're the Bye Bye Plastic Bag girls!'" Melati says.
They had been learning about significant people like Nelson Mandela and Martin Luther King Jr. at school the week before the idea came to life.
"We wanted to be like them and we didn't want to start at an old age . . . we wanted to start now," Isabel says.
These young girls have real passion. They want to make a difference – when others their age are worrying about boys and make-up Melati and Isabel are worrying about being significant.
So far they have about five per cent of the signatures they hope to collect.
"But that's okay, I have every faith in it. And Avaaz (has advised) that once what we're doing is more established, they want to give it a push," the girls' mother, Elvira, says.
Melati adds: "Even if we don't make it by 2015 . . . it's not the end of the world. At least we're doing it."
The Bye Bye Plastic Bags movement involves some 20 children between the ages of nine and 15, who all help in their own ways – mainly by organising presentations at their schools and spreading the word about the initiative.
Sonny (13), a local surfer, is a part of the team. Although he travels a lot for surf competitions he has been a valuable addition by way of spreading the word to as many people as possible . . . including many famous people.
The team is made up of youngsters from local and international schools on Bali who, amongst themselves, divide up the tasks important to keeping the drive alive – media liaison, fundraising, and public presentations.
Melati and Isabel realise, however, that if plastic bags are banned an alternative needs to be found.
One of the solutions they have come up with is switching from plastic bags to cotton bags.
Isabel says they plan to ask hotels for used bed sheets so that they can make bags without buying new materials.
"And by making bags we can create jobs for people in Bali who don't have jobs, for example the Safe Childhood foundation," Melati says.
"We're planning on working with the mothers there and they'll sew the bags and make the designs . . . and in that way they'll earn money without sending their children onto the streets to beg."
"The Bali Women Widows will also be making the cotton bags," Isabel says, "they are ladies who were left behind when their husbands were killed in the bombing in 2002. And there are other companies reaching out to us as well . . . like Eco Bali and a company from Jakarta that produces paper bags."
Melati and Isabel tell me about a 16-year-old girl from Turkey who won an award for finding a formula to create bags that are biodegradable using banana peels . . .
They are referring to the 2013 Science in Action Award winner Elif Bilgin who was driven to find a sustainable alternative to petroleum-based plastics. Using the starch from banana, mango or potato peels, she found a formula that produces an alternative to plastic without harming the environment.
"So we want to get in contact with her because she's a child and she didn't give up . . . this is a child-driven initiative and maybe we can get the formula," Melati says. "We have lots of bananas here in Bali."
Isabel says: "We want to let you know that we will definitely not stop until the first question you are asked when you arrive on Bali is, 'do you have any plastic bags to declare?'"
Elvira supports her daughters in every way possible and has had to stand up for them many times.
"Some people say: 'Why do you only do the plastic bags, there's so much (more) rubbish', and I say, 'listen, it started with one (Facebook) like, now they have a pilot village (project)' . . ."
Pererenan is close to Canggu and close to where the girls live.
With official approval and support from the head of the village, they will be implementing the "no plastic bags" policy gradually. Every family gets eco-friendly bags, and all shops and warungs get 500 paper bags for free.
"Some politicians are asking what we want (from them) and we say we don't want anything – we don't ask for money, we only want your support and approval to continue with this initiative," Elvira says.
As fulltime students at Green School and with homework, the girls are very busy these days but somehow they still manage to make time to visit other schools, host events and lead presentations.
"Sometimes I ask why am I doing this? It's so hard. Then I think, what would I be doing if I didn't? I'd probably be sitting on the couch watching TV. And this is way better," Melati says.
I ask the girls what it was like to meet India Arie and they both exclaim, "She is just amazing, I love her songs."
"We met with India because we were invited to a dinner by John Hardy to meet with her and introduce her to Bye Bye Plastic Bag. She was really supportive and keen to help. We got her signature and (those of) all her crew," Melati says.
India invited the girls to her concert and encouraged the crowd to sign the petition. Melita and Isabel collected 250 signatures amongst the 350 people at the event . . . the only reason 100 didn't sign was because they'd already done so on Avaaz.
The Bye Bye Plastic Bag team will stage a festival at the Green School June 14th with workshops and events.
If you would like to help the girls reach their goal of one million signatures to ban plastic bags on Bali, please visit their official website for more information.
Save
Save