Landscape designer and horticulturalist Anton Clark brings balance and feeling to gardens all over the island. He spoke to Stephanie Mee. Portraits: Arno Santosa.

Hi Anton, can you tell us a little bit about where you're from and how you ended up in Bali?
I grew up in Perth, Western Australia, but I'm a farmer's son, so I suppose the land and horticulture are in my genes. I was living in Margaret River landscaping winery gardens when the 2004 tsunami hit, so I left on a two-year volunteering stint to Aceh to help with rebuilding efforts. This led to other projects in Indonesia including building 650 houses in Jogya after the 2006 earthquake. Two years quickly led to three years, and before I knew it I had forgotten to go home. In 2008 I landed in Bali to start landscaping and the rest is Instagram history.
Did you always have a green thumb and an eye for design?
I wanted to be a chef, but then I realised the hours were anti-social and I would be stuck inside. My hobby and passion was gardening, so I chose to study horticulture and this naturally led to design. I love an ordered chaos, I love a random garden that has a hidden balance and position to it and I love the placement of all the plants that make a garden.
What's special about your work here?
I love that fact that the "Bali landscape dream" is an ideal so many people all over the world want for their garden. I'm part of a creative and inspired team of Indonesian landscape architects and designers and it makes me proud that our ideas and designs are sought after. What I've learned is that the main challenge is not climate related as you might expect, because a Bali concept garden can be created nearly anywhere. Rather it's the challenge of working with landscapers and trades in other countries. I was in Sri Lanka recently trying to explain that Javanese Sukabumi stone can in fact stick to the walls of a pool and it has been done before and it is possible! We are lucky to have so many amazingly skilled people in Bali who can work with so many different materials.
How did the Bali Landscape Company (BLC) come about?
BLC started from my passion for landscape architecture. Prior to BLC I was in a partnership with a friend – the famous landscape designer Anto Kusnanto – and I wanted to move more into landscape design rather than only landscape construction. The detail of gardens and the ideas that begin in the sketch and drawing stage of the design have a special place in my heart, so this is why I founded BLC.
We've been to some of the properties you've worked on and they're pretty impressive. It must take a small army to create what you do. Can you tell us a bit about your team and how you work?
We are a team of 50 including nursery people, landscape constructors, landscape architects and support staff. Most of my team have been with me for over eight years, so I think they like what they do. Currently we have teams in Batam making a spa garden, in Bintan working on a site nursery on an island resort, in Lombok clearing an island for a new island landscape and additional teams in Uluwatu, Bedugul, Canggu and Seminyak. The design team is also working on projects in Malaysia, Dubai, Sri Lanka, Bali and Lombok.
Where does your inspiration come from?
The land speaks to me in terms of contour, natural features, or elements that can be exploited to make the landscape interesting. Speaking with the client and what they want from the garden also inspires me. One idea and a creative discussion can lead to a snowball of ideas that grows to form a new concept.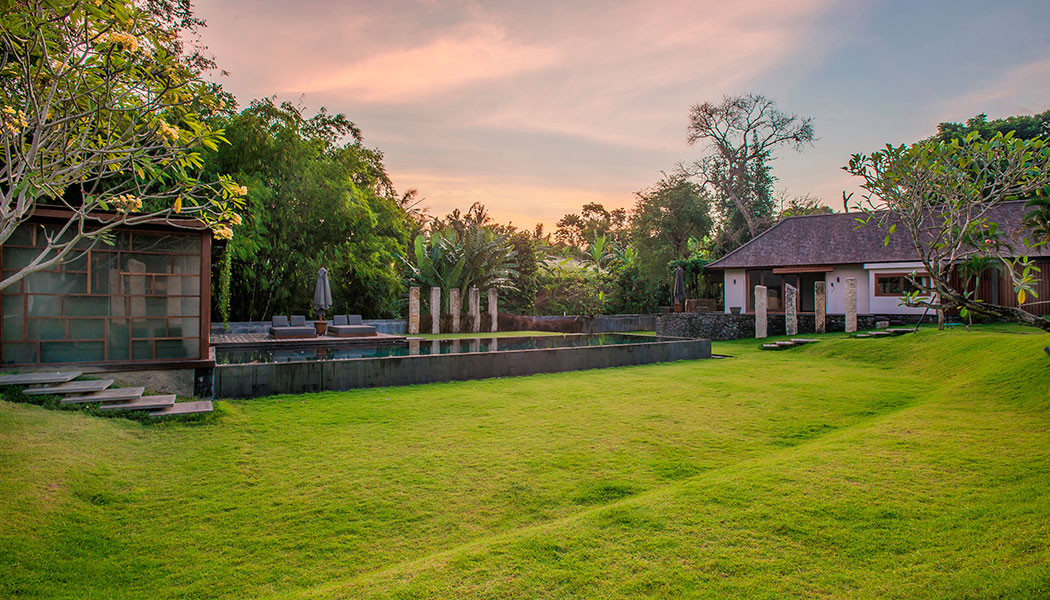 In your opinion, what makes for great landscape design?
Landscape to me is about plants and trees; the perfect form of an old frangipani trunk, a perfectly cut lawn, the smell of fresh compost. Designers often forget plants and replace them with structure. A great landscape has balance, form and aesthetic, and it invites the user to want to enter and see the green. If a garden has balance and feeling, it will be great, even if it's a small garden.
Are there any properties on Bali that you think stand out for their exceptional design?
I love big old gardens like at The Oberoi and The Legian with their spacious lawns, trees and botanicals. One favourite that's new on the list is Suarga, in Padang Padang. I love the philosophy of the resort. Every part – not only the garden – is environmentally focused from water harvesting to the waste water gardens, recycled wood and of course the garden, which only uses drought tolerant plants and species sympathetic to the resort philosophy.
What are some of the biggest mistakes people make when designing properties here?
I'm a horticulturist before a landscape designer, so the mistake I see regularly is the wrong plant in the wrong place. For example, plants that will not grow in shade, trees that will be too big in the position they are planted or unsuitable plants by the coast. The other big mistake is proportion. If the scale of the garden is wrong then the whole feel of the garden is not right. Even in ordered chaos the garden still must have harmony and scale.
Are you working on any exciting projects at the moment?
That's a hard one as each and every project is exciting. Currently we're working on a new cliff side resort in Nusa Penida. This will be the first major resort on the island, which means we have the opportunity to bring big landscape design to the island and hopefully play a part in the development of the tourism industry there, albeit with our garden touch. Maybe one day people will look back at the Nusa Penida Beach Resort landscape in the same way as they do The Oberoi and the Hyatt Sanur as one of the grand old gardens of the island.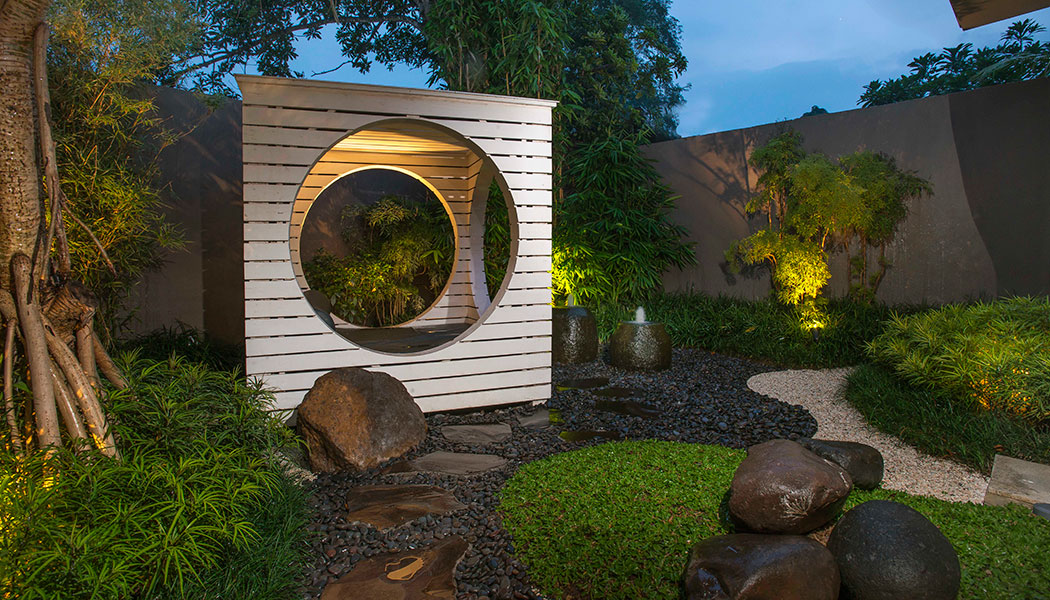 When you're not working, where would we most likely find you?
In a restaurant, eating. I love living in Seminyak with its many and varied restaurants, so I eat out every night. If I have a craving for Indonesian food I go to Ibu Kiris at Sukro in Denpasar for crabs, and I also love watching the sunset at Tandjung Sari and having dinner under the old trees. Otherwise I'm working or driving from project to project checking how the gardens are coming together and making small changes to the design. It is hard to be anywhere else when your job is your hobby.
Where do you hope to find yourself in 20 years?
Still in a Bali garden, I hope, between a few grand old trees.