Anita Surewicz goes one-off with some of the best bespoke brands in Bali.
Bali abounds with innovative designers and skilled artisans. From woodcarvers to shoemakers and tailors, the island's creative beat is a breath of fresh air in an era of mass production. With so much talent on one island, it is no wonder that the demand for bespoke products is continuing to gain momentum. And the trend is about more than just customizing that special new purchase. It's also about the whole manufacturing process. No longer satisfied with cookie-cutter goods, today's discerning shoppers want to know that their item is not only a one-off but also the story behind where and how it was produced. Here's our pick of three top-end brands that capture Bali's creative spirit.
L'Atelier Perfumes et Créations
Discover Indonesia without leaving the comforts of Bali by learning about the country's scents and creating your own personalized fragrance at L'Atelier Perfumes et Créations. The unique perfumery studio offers 90-minute workshops where participants create their bespoke fragrance using essential oils from across the archipelago. Those who opt for the three-hour workshop are also given a special insight into Indonesia's role in perfumery.
L'Atelier Perfumes et Créations grew out of one woman's passion for scents and Indonesia. Hailing from Martinique – a French island in the Caribbean – Nora Gasparini visited Bali in 2006 and loved it so much she decided to make Bali her home.
"The cempaka incense, flowers and other various smells, as well as the enchanting surroundings, led to my obsession with scents and Indonesia itself," Nora says. "I went back to France to study perfumery and later travelled around Indonesia to learn about its different essences."
Not many realize that Indonesia is one of the world's major producers of raw ingredients used in the production of essential oils. As those are indispensable to the perfume industry, the country's lack of perfumeries can be surprising.
"The main purpose of Indonesia's fragrance industry is to create scents that are used in consumer products such as shower gels, body lotions and massage oils," Nora says. "A lot of the essential oils are exported out of Indonesia to perfume makers abroad."
Realizing the benefits of being so close to the source of such rich materials, Nora decided to pour her passion into L'Atelier Perfumes et Créations. Today, she runs workshops out of her studios at the Ayana Resort and Spa in Jimbaran and The Ritz Carlton in Nusa Dua.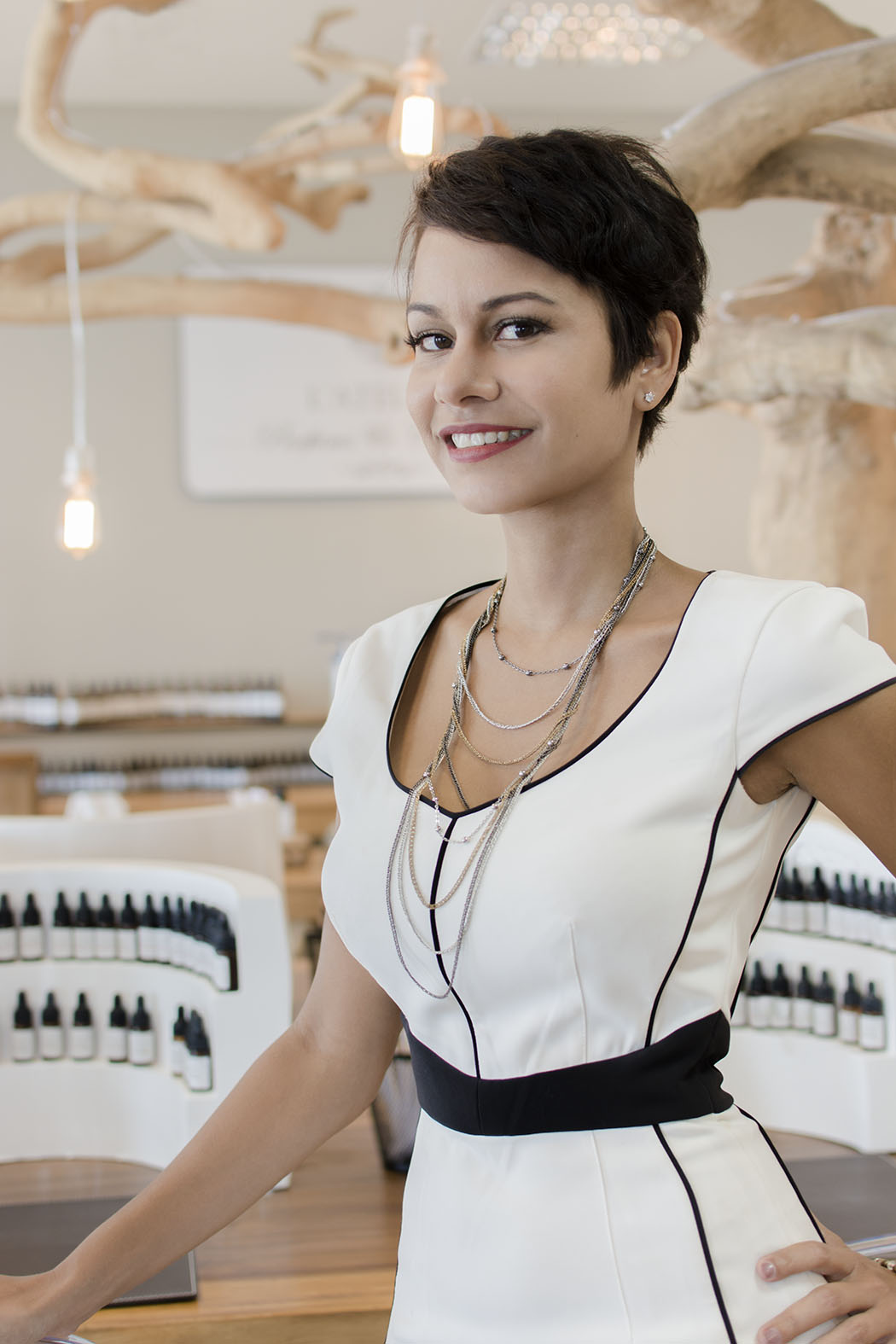 "Participants fill in a questionnaire at the start of the workshop to determine their 'perfume personality'. Then comes the selection of the base, middle and top notes," Nora says, referring to the layers combined to make a fragrance.
The participants can choose from around 45 different materials – including spices, flowers and woods – to create their own signature fragrance. "Then they create three trial formulas in separate vials and choose which scent they want made into a 30 milliliter bottle of a personalized perfume," Nora says.
At the end of the workshop, each participant receives his or her tailor-made perfume, which comes in a sleek leather case to protect it from sunlight. Best of all, L'Atelier Perfumes et Créations keeps each formula in their database for future reorders.
Jasmine Elizabeth
It takes two shoe artisans around 16 hours to assemble a bespoke pair of Jasmine Elizabeth shoes. Handcrafted from quality materials, the shoes infuse glamour and sensuality into detailed yet comfortable designs.
"Just as the women who wear it, the brand speaks for itself," says Agie Purwa, the Balinese Creative Director of Jasmine Elizabeth. "A pair of Jasmine Elizabeth shoes epitomizes the character of a woman who is dynamic, strong, smart and self-confident."
Nestled along a hidden lane amidst the hustle and bustle of Kuta, the Jasmine Elizabeth showroom offers a unique shopping experience to remember.
"I personally guide my customers through the process of creating a customized pair of shoes," Agie says. "From assisting in the selection of materials, colour swatches, heel height and design to the completion of a personalized pair of gorgeous, handmade shoes, my team of artisans and I can help make your dream come to life."
Even though Agie started the brand – which is named after her daughter – only earlier this year, she is no stranger to creative pursuits and the manufacturing process.
"When I was young my father owned a furniture factory. I quickly became familiar with the design process. Ever since, I have enjoyed the creative process, especially designing and manufacturing handmade pieces," Agie says. "Around 10 years ago I decided that I wanted to make shoes so I set up a workshop. Today I employ 10 artisans, and work with designers and boutique owners both in Bali and abroad who manufacture shoes, handbags and other apparel at my workshop."
It is not surprising that many of Agie's designs are inspired by the idyllic landscape and vibrant colours of Bali. "I try to translate the aesthetics of the island into a wearable art form without losing the authenticity of the traditional craftsmanship of my team of artisans."
Just like the fairy godmother in Cinderella, Agie is happy to be able to breathe life into the dreams of her customers. Hopefully, the launch of an exclusive Jasmine Elizabeth showroom in December will help her spread her magic to even more shoe- connoisseurs, each as unique as the products they commission.
Angel Jackson
What do Rita Ora, Lady Gaga, Gwen Stefani, Kate Moss and Rocky Barnes have in common? They have all been spotted carrying Angel Jackson handbags. With a celebrity following, the Bali-based international accessories label has been turning heads since it was launched in 2005.
"Our handbag collections have been featured on several American television shows including Gossip Girl and The Carrie Diaries," says Katie Smith, the Creative Director behind the fearlessly edgy brand. "We have also been featured in luxury fashion magazines worldwide such as Vogue, Tatler, Elle and Vanity Fair."
The masterminds behind Angel Jackson, Katie and her sister Millie Smith, who is in charge of the design side of the production process, travelled to Bali over 12 years ago to find a manufacturer who would bring their designs to life but were not happy about the working conditions or the quality of the products on the island. Not discouraged, the duo decided to set up their own operation from scratch.[/caption]
"We decided to employ a production manager, rent a small space in Kuta, buy some sewing machines, and employ tailors and craftsmen," says Katie. "It all started from there. Today we have an extremely talented team working out of a workshop in Tanah Lot in Tabanan. Each handbag is cut and stitched by one person from start to finish. There's a lot of love going into each piece."
Besides the label, Angel Jackson's service "Beyond Bespoke" has been set up to offer accessory-connoisseurs a unique, once-in-a-lifetime experience of unleashing their inner designer and creating their very own statement handbag.
"The Bespoke Angel Jackson design experience begins with a one-on-one consultation with the designers at the customer's suite or villa. As the creative team behind Angel Jackson, Millie guides our customers through the current handbag trends and introduces them to a range of luxurious materials and colour swatches," Katie says, adding that one of the more unusual materials used in Angel Jackson products includes sustainably-sourced snakeskin.
"After the initial consultation, my designers and I work with our artisans and technicians to develop a working drawing, paper pattern and then prototype sample for our customer's approval," Katie continues. "A second appointment, over an optional champagne lunch, with Millie and I gives the customer an opportunity to discuss their prototype and any changes that they would like to make. Finally, the customer's personal artisan will begin the process of creating their bespoke handbag."
The sisters say they work very closely with their team of craftspeople to come up with quality pieces that are both contemporary and timeless. Better still, such personal involvement also allows them to ensure that their accessories are produced in an ethical manner.
"We ensure optimum working conditions for our employees and compensate them well for their hard work," Katie says. "We were always taught to treat people as we'd like to be treated and that's how we've run our business. We believe it's possible to create beautiful products in an ethical way."
Federico Gioli
Breezy and alluring, the Federico Gioli clothing label combines the designer's Italian flare and the talent of his Balinese team. Federico's garments are sophisticated and elegant – think asymmetrical lines and impeccable attention to detail – yet comfortable and easy to wear. While Federico specializes in high quality ready-to-wear collections, he also produces custom-made garments for those with a penchant for original one-off creations.
Founded in 2012, the Federico Gioli men's and women's label is the culmination of 25 years of experience, determination and hard work. Federico started his fashion career at the tender age of 15 at a family sportswear label, Brema, in Italy. Over the years, he has had the good fortune of working for a variety of high profile designers in Milan and London, including Studio13, a renowned agency that specializes in different facets of fashion from make-up to photography. He has also worked with some of the top names in the industry including Giorgio Armani, Roberto Cavalli, Jean Paul Gaultier and Vivienne Westwood.
Like many before him, Federico fell in love with Bali after he visited the island on a holiday in 2010 – his father has now been living on the island for over 20 years. "While I learned about fashion from a pretty early age, it was once I got to Bali that I was inspired to open my own atelier," he says. "I initially worked with some of the top designers on the island including Nico Perez. It took me two years to get my own business off the ground."
Ranging from casual wear to sophisticated evening dresses, Federico's chic designs make fashion seem as effortless as a stroll on the beach. Fittingly, many of his creations are inspired by natural materials. One of his favorites is bamboo cotton. "It is very important to me that this is a sustainable fiber," he says. "The material is delicate and amazing to work with. It is perfect for a tropical climate. I am planning to use it in my Summer Collection 2016, which will be super fresh and colorful."
Whether you are looking for an off-the-rack evening gown or that perfect outfit tailored to your measurements you just can't get off of your mind, Federico's magic touch is sure to deliver. The Federico Gioli label can be found at his boutique, also called Federico Gioli, on Jalan Dhyana Pura, Gang Cempaka, in Seminyak; SATU in Beachwalk Kuta; and more recently at the Padma resorts in Legian and Ubud, where he is also redesigning the public areas. Federico is also planning to start retailing his label in Jakarta and Singapore in the near future.