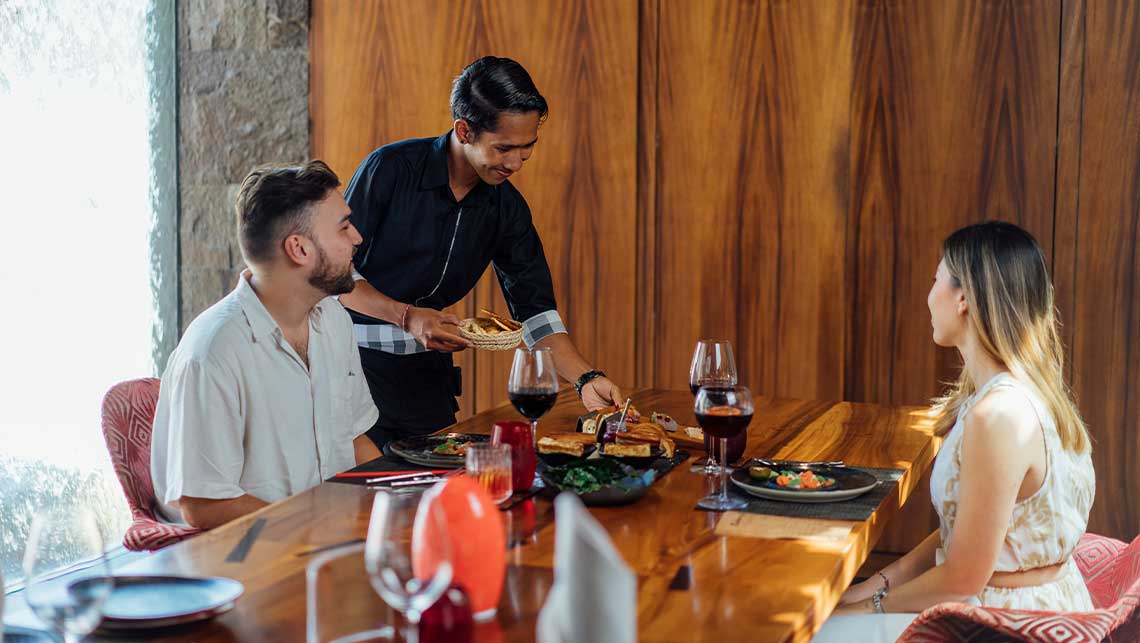 The award-winning restaurant, FIRE at W Bali – Seminyak unveils the elevated Sunday Brunch ritual, where myths and fairytales are craftily combined with rich flavours of this exotic island's locally-sourced ingredients. This exceptional brunch occurs regularly on the first Sunday of every month.
'Ember by Fire' will highlight a contemporary touch on authentic flavours of Balinese spices that collide with freshly-caught seafood or high-quality meat, all sizzled using coconut husks to create the additional aromatic flavours. It could be construed as an elevated take on Balinese culture and the story of the renowned Kecak dance.
The menu follows a sequence which takes guests on a step-by-step culinary journey, elevating guests' dining experience as they discover a number of unique and mouthwatering dishes.
This new brunch ritual serves an 'a la carte' style of dishes with cocktail and wine pairing available. The menu comprises of several sections, including freshly baked bakery as a starter, followed by a salmon carpaccio, kaffir lime-cured local tuna, and foie gras. Tickling the taste buds enjoy the grilled offerings presented by the flavours of fresh lobster, octopus and calamari accompanied by fresh condiments, including salsa verde, lemon garlic butter and chimichurri.
In dramatic fashion, the signature Tomahawk and spicy chorizo sausage will delight your palate as all are grilled at the guests' table so they may bear witness to the process of this ancient cooking method. A selection of Artisan cheese with condiments will wrap up this indulgent culinary journey beautifully finishing with a variety of rolling sweets to cleanse the palate.
"This concept is all about showcasing a one-of-a-kind experience to guests by using and highlighting all the local ingredients and enjoying every culinary journey from start to finish," says Norberto Palacios, Director of Culinary at W Bali – Seminyak.
"It is an exceptional addition to the monthly program at FIRE as we thrive to deliver the best of the best to our guests" he concluded.
The package is priced at IDR 950,000++ for the food and non-alcohol package; IDR 1,450,000++ for the cocktails play package; and IDR 2,400,000++ for the premium wine and champagne package.
IG: @wbaliseminyak | @fireseminyak
FB: W Bali – Seminyak | Fire Seminyak
https://www.firerestaurantbali.com/