Hearing the vibrations calling, The Yak sat down with the Pyramids of Chi Founders Peter McIntosh and Lynn McIntosh, and chatted about the inspiration, the guests and the healing sessions – all done in the name of Sacred Geomancy.
There are countless healing and therapy centres here in Bali. Clearly the Pyramids of Chi are different. With a wide range of holistic and healing therapies, what would you say is the best therapy that you offer your participants – an experience that they would never be able to enjoy anywhere else?
The Pyramids of Chi is the first in the world to offer these amazing Sound Healing experiences within one of the three large, purpose-built Pyramids, all of which conform to Sacred Geometry. The acoustics, and the established and scientifically recognised Pyramid Power, combine with the amazing energies created by the many ancient Sound-healing instruments, and all add up to a very powerful healing effect. There is nowhere else in the world that has what we offer in its entirety. It is truly a very unique destination, full of amazing experiences.
Why did you decide to open the Pyramids of Chi here in Bali? On your website it says that you've welcomed thousands of visitors since your opening in 2017. How are you coping now with the pandemic? Do you still get visitors?
The reason we created the pyramids in Bali was due to a very strong spiritual message I received while meditating in Bali back in 2013. The story of how the project was completed is talked about on the Pyramids of Chi web site, however as I often comment, it was totally through 'divine intervention', because there were so many results that were forthcoming which were unexplainable in any other way.
There were over 65,000 visitors in the first 3 years, growing from an healing venue that nobody had heard of in 2017, to a 'must see' destination by 2020. Its popularity was due to the high 'word of mouth' message to people around the globe, this was THE place to visit when coming to Bali, and not just once, as they had many differing activities to experience.
Visitors are still coming during this Pandemic, however greatly reduced from the 200 plus a day to maybe 50 a day for only 3 days (Friday – Sunday).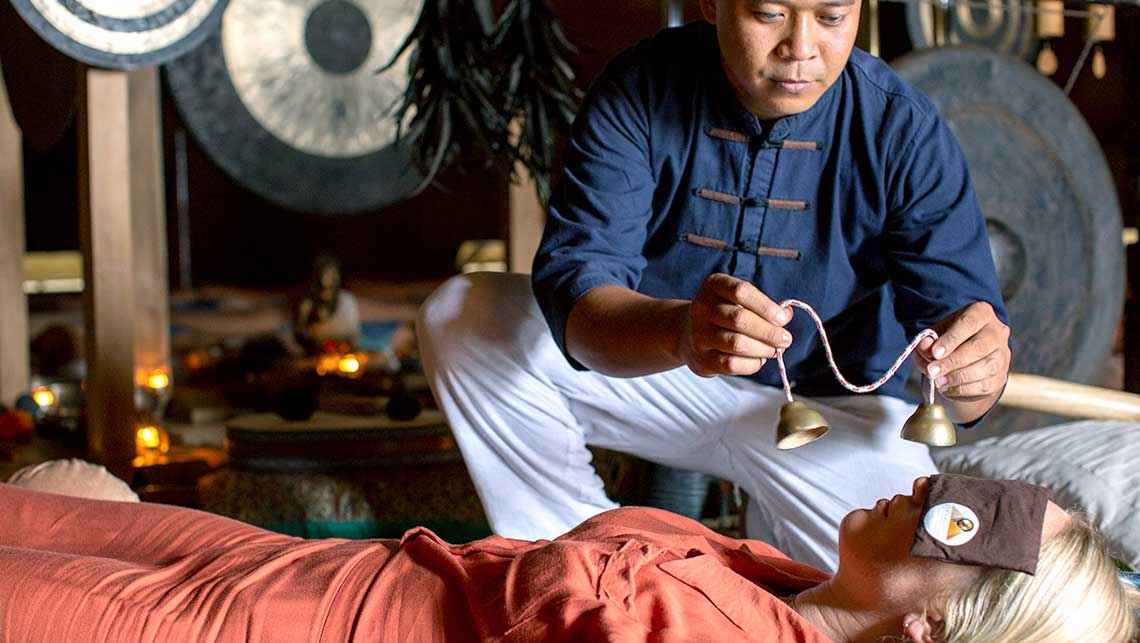 Before the pandemic, where were your visitors usually from?
The main source of visitors pre-pandemic was Australia, however the management at the Pyramids believe that people from every country on Earth have visited, with the majority being from Europe after Australia.
Who should visit the Pyramids of Chi? Are your services for everyone?
One of the best factors about visiting the Pyramids is that it has a wide appeal to all, from skeptics and  very commercially-minded people, to those at the other end of the spectrum, who are into wellness and spirituality. Not only are the experiences for everyone, but there are also a number to choose from.
How does sound-healing work? What are some proven health benefits?
The vibrations from the instruments and particularly when experienced in the Pyramids work on our seven key energy centres, also known as Chakras and the results can be quite extraordinary. Sometimes known as Chakra balancing, guests experience a big emotional release or a physical reaction, our favourite saying to visitors participating in a Pyramid experience is 'Expect the Unexpected'.
We have testimonials from thousands of people stating that after one, or more, of our Sound Healing experiences they have had quite profound results, and more and more people are now turning to this process instead of conventional practices.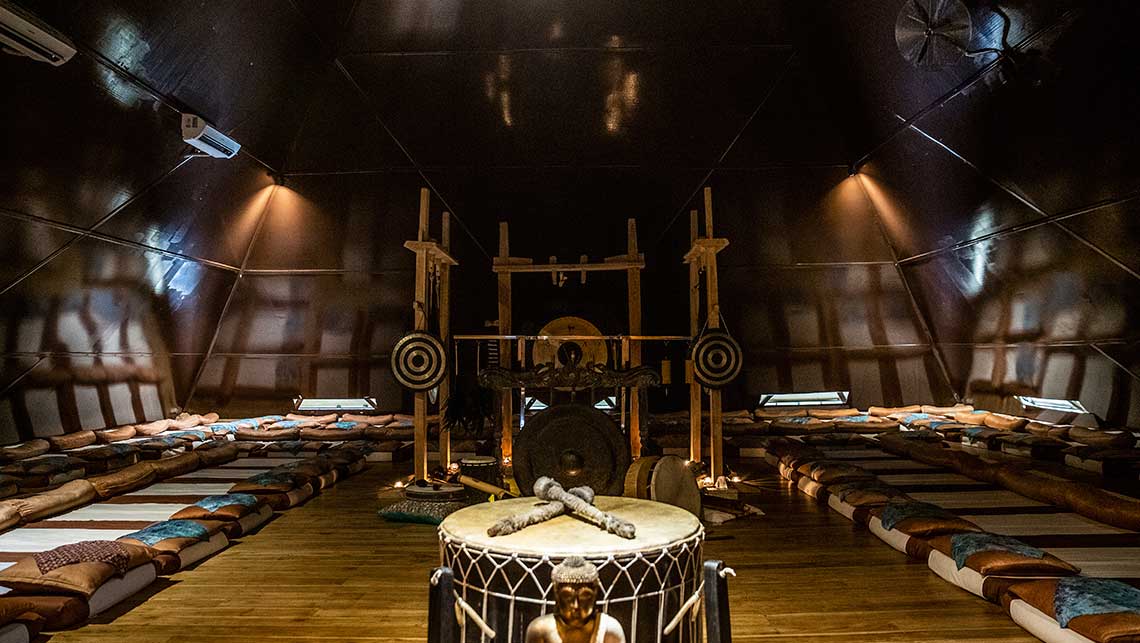 How long would one feel the effects of a sound healing after a session at the Pyramids of Chi? How many sessions would you recommend a week? What are the stages of improvements or growth that a participant would see after some time?
Many questions in this one, there is no definite time for the effects to stay with a visitor, although many state after a session with us they have had the most restful sleep in a long time, and the next day are quite relaxed. It all depends on the environment and mindset people are in after each experience.
This form of healing is not a measured one, as everyone has different needs and results, one session may be all a visitor needs to let go of an emotional issue, a lot of stress or even a physical problem. Others may take several sessions and perhaps a mix of experiences to reach that certain point that they seek.
Are children allowed?
Yes, they are, however younger ones are not encouraged as their attention span is usually fairly limited and, if under ten, they should be supervised by their parents, as there are a number of walls and a lake that requires parental surveillance. Some go into the Pyramids and fall asleep with minutes….
Where are your Gong Masters, or gurus from? Where do they receive their training?
Our Gong Master and facilitators come to us from many countries. We have never sought out anyone, they find us, some come with training and others come who possess the right mindset are fully introduced to the instruments by Peter or Kevin. They are all taught to play from the heart, no sessions are choreographed, and each player has their own set of skills and follow rough guidelines on what gives their audience the best results.
Tell us how you got into sound therapy? Did something happen at one point to you in your life where you discovered sound therapy and then decided to offer it to the world through the Pyramids of Chi?
I was introduced to Sound Healing in Perth in 2004 by a friend who ran a successful Sound Healing centre in the hills. It was a rapid transition, from being a very focused business person to one who discovered an amazing way to reach and heal people through instruments in a specifically-shaped Pyramidal building. Only small and looking like a Tipi, we (Lynn and I) soon discovered the power of sound and it's incredible effects.
The vision I had in Bali many years later transitioned over four years, from the construction stage to the realization. Once opened we knew that the Pyramids of Chi should not be limited to just Bali, it was a creation to be shared with the world!!
Already there are a number of interested parties considering opening a replicated version of the Pyramids of Chi in their own countries, some of which we hope to see realised by 2022.
What can a visitor expect when they sign up for a session at the Pyramids of Chi? Please elaborate.
We offer a very professional operation from the moment a visitor arrives. After a welcome refreshment they are introduced to what to expect by their Gong Master or Facilitator, before being taken from the cafe down to their allocated Pyramid to begin their session. Some of the sessions have an assistant also to guide people to their mattress. An introduction on the history of Pyramids, their power and the potential of the Gongs, Drums, Didgeridoo and Singing bowls is explained before the Ancient Sound session starts. This varies with some of the other experiences, and it is a strong belief of ours that all visitors should understand what the experiences are all about first.
After the session, visitors are able to wander the beautifully manicured grounds, meditate in a quiet place, or return to the Cafe for some healthy food and drinks, and maybe share their experience with others.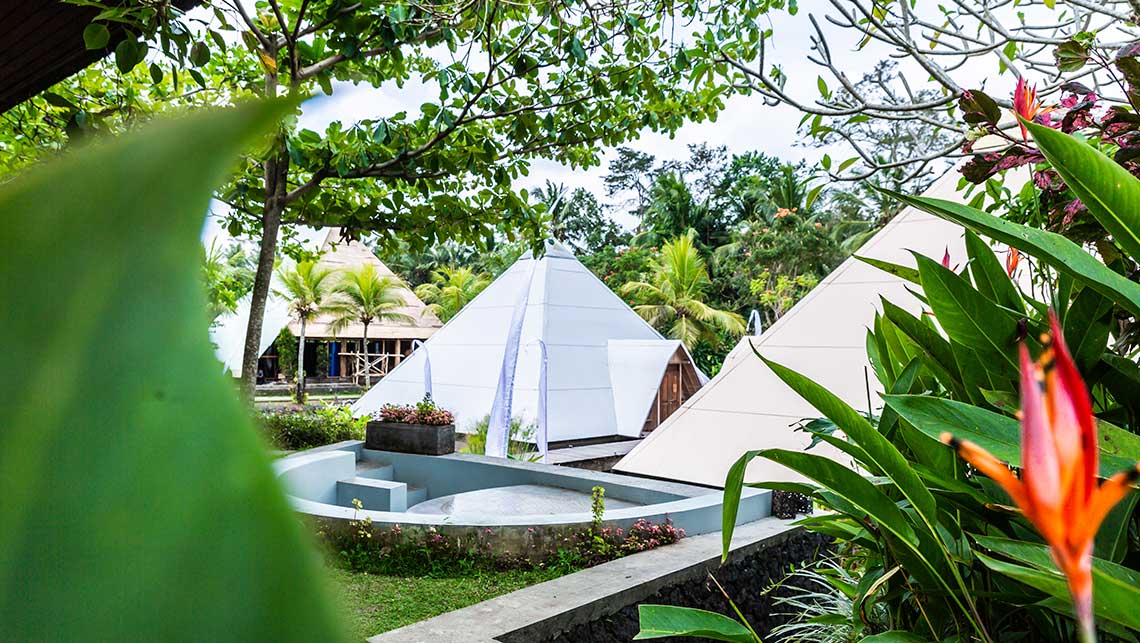 Can you share some statistics, or percentages, that show how sound and vibrations improve health and well-being?
There are no definite figures to share, check out the testimonials on our social media pages, web site or directly at the Pyramids. What has been established beyond a doubt, is that many of our visitors have had incredible results, and gone away feeling a deep sense of relaxation and often one of release. The wonderful growth of Sound Healing worldwide is the biggest testimony to the effectiveness in the healing received from Sound and Vibration.
How often do you recommend a session at the Pyramids of Chi?
We do not make any recommendations, we suggest our visitors listen to their hearts, they will know 'within' if they should come back for more. The one statistic we are very fond of repeating is that around 82% of our visitors have come to us via recommendation from others, or come back for repeat sessions.
Any extraordinary stories, or revelations from your clients, post sound-healing session?
We have hundreds of amazing stories, all are different and meant for that person on the day or night.
One special one that comes to mind was a lovely lady from Alabama (Angelique) who had suffered terribly prior to visiting us. She had a session with Didi, one of our fabulous Gong Masters with a beautiful caring nature. On the day, I noticed the two of them emerge from the Sun Pyramid a considerable time after the session was finished, a beautiful hug was exchanged, then Didi looked towards the Cafe and said something to Angelique. The next thing I knew was this very emotional lady was standing before me asking if I was Peter, the man that gave 'Heart to Heart' hugs? I opened my arms and we embraced, she was softly crying into my shoulder and the hug must have lasted for at least three minutes. When we parted she was distraught because my shirt was soaking wet on the left (Heart) side, however I convinced her it was a blessing for me. At the time I had been sitting and talking with another visitor, but I encouraged her to tell us her story, but she said no you are already busy. The other lady (Gail) insisted she wanted to hear her story, if she wanted to share it.
It seems Angelique had been nursing her husband for the last 3 years (cancer)while still trying to hold down a job, and manage the household. Two months earlier he had passed and then the world truly fell apart for her, she was sacked from her job because she had spent to so much time away, the bank foreclosed on her home as she had been unable to keep up the mortgage, and her children refused to speak with her, (disagreement over the process the hospitalization for her husband). It couldn't have got much worse!
She spoke with a good friend who encouraged her to sell her car, take a holiday somewhere quiet, spiritual and away from the USA and hit the RESET button. This she did, and ended up in Bali. On the first night, she was talking with a couple in Sanur who encouraged her to go to Ubud and have a session at the Pyramids of Chi, they didn't tell her much – just made the suggestion.
Her statement then was that she had just had the most profound and emotional message and feelings during the session that she had been unable to even speak for about 40 minutes after the session, and how Didi had comforted her. Now, after the hug and telling us about her woes, she was feeling that a great weight had been lifted from her and relayed that the message she had received was 'Everything is in our hands and you will be happy again!'
A beaming smile from Angelique had us misty eyed and going for another hug.
Jump forward to the next morning and I am greeted by this large lady, with a broad beaming smile rushing across the cafe floor calling out my name as I entered it…. Peter, Peter, guess what??? My children have sent me an email wanting me to go and stay with them and be Granny again… How did they know?? More tears and hugs, and a big thank you to Spirit for an amazing healing.
What did we do, not much, played gongs in the Pyramid of the Sun, provided a shoulder to cry on and listened with sincerity to a tough story, then handed it all up to Spirit. The result spoke volumes, and it is this, and many other amazing stories, that tells us we are on the right path.
What is the most important thing to know, or do, before attending a session?
Come with no expectations, just accept that what you receive is what is meant to happen. It can be profound or simply relaxing, these are there for a reason – do not overthink it.
Do you have any packages / promotions that you'd like our readers to know about?
We're currently open Friday, Saturday and Sunday with many unique experiences on offer throughout. Best to visit our website and explore what is best for you, though we recommend beginning with our famous Ancient Sound Healing session. We can also offer private, one on one or group sessions outside our normal operating hours.
The Facts:
Open Friday, Saturday, and Sunday. 10:00am – 6.00pm
Ancient Sound Healing Sessions 11am & 2pm. Price: Rp200,000 (Was Rp300,000)
Contact:
www.pyramidsofchi.com
+62 (0) 812 3888 9441