Faces, friends and a whole lot of fun. Images by Robert.
The ninth Annual Yak Awards rocked the kasbah on the 27th of September at the lavish, upper-deck beachfront of Vue at LV8 Resort on Berawa Beach. With a truly funked-up theme of  "More Than Just Motown", it was an evening of vibes, scribes and dusty 45s, with music, awards and free flowing canapés and cocktails for the 700-plus crowd of Bali scenesters, industry bigwigs and international jet-set fashionistas.
Yak co-founder Sophie Digby said, "We love the island and her people, we love the lifestyle and it's a privilege to bring it all together in one evening. Industry divas need to be recognised and it's thanks to all our sponsors, advertisers and readers that we get to do it every year with so much support from all … we get to dress up and its so much fun."
In 2013 the canapés surpassed even those of the 2012 awards, with a veritable feast of gourmand mouth-popping tapas prepared by world-class chefs from the kitchens of: Anantara Uluwatu, Ayana Resort, Charlie Bar & Restaurant, Gelato Secrets, Ku De Ta, La Finca, L Hotel, Lifestyle Retreats, LV8, Merah Putih, Mozaic Ubud and Beach, Motel Mexicola, Oazia, The Oberoi, POD Chocolate, Rimba, Resort, Sardine, Teatro Gastroteque, The Mulia and Wah Restaurant amongst others.
Spearheaded by Louise Roederer, Kim Crawford, Sagatiga, Ciroc, Kettel 1 and Padrón, the libations also included Berringer, Plaga, Heineken and Smirnoff. What was noted was the lack of
free-flow water!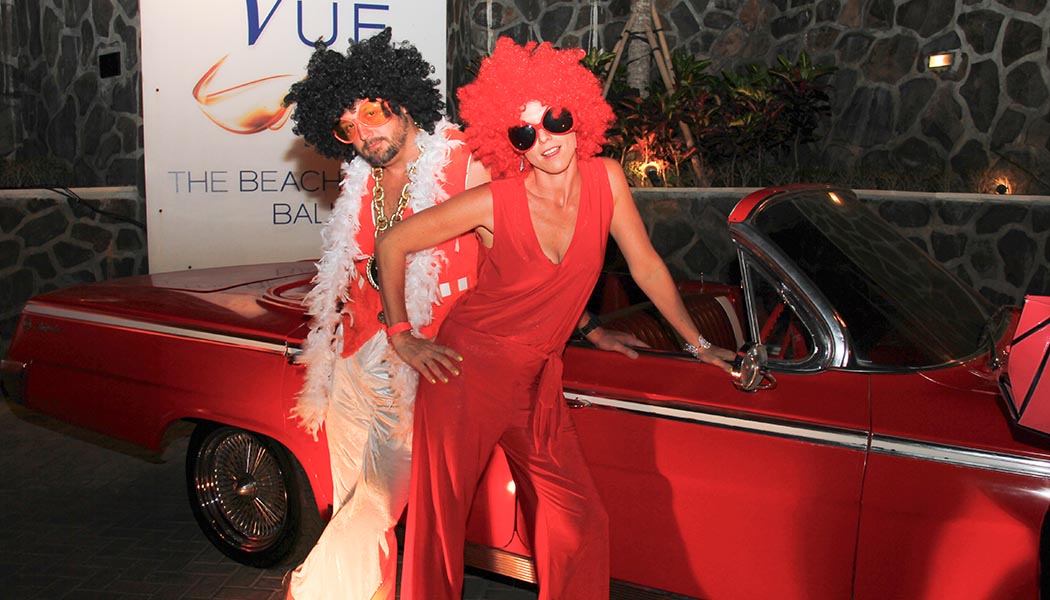 Well lubricated, the crowd was left in awe by Jim Larkin and his band, who took to the stage with his soulful spin on the classic Detroit sound. International DJs Gus Till and Cozi from Zen Lemonade spun the evening out in style. Bloomz lent a colourful touch to the floral arrangements, whilst Christina Iskandar from Design Dope kept the cameramen busy on the red carpet bagging interviews with the glitterati on arrival. Massive Motown thanks go out to Vision 1, ProMotion Events, Mango Vision, and Revolta who kept the event production rolling whilst Bali High launched the Yak Drone that was the spy-eye in the sky for the night.
As always the highlight of the event was the recognition of those that truly exceed, and the Yak Awards took centre-stage with more than 6,000 global Yak fans having voted online for their most-loved nominees, shortlisted by a panel of Yak devotees and associates a.k.a Le Comité.
And the winners were . . .
1). BEST NEWCOMER: Merah Putih, Petitenget
2). BEST RETAIL SPACE: Beachwalk/Satu
3). BEST CHEF: Ben Cross, Ku De Ta/Mejekawi
4). BEST SUNSET VENUE: El Kabron, Bingin
5). BEST RESTAURANT: Sarong, Petitienget
6). BEST WINELIST: Winehouse, Kerobokan
7). BEST DJ: Daniel Ka, Ku De Ta
8). YAK WOMAN OF THE YEAR: Sinta Maroe, Rainbow Community
9). YAK MAN OF THE YEAR: Tah Riq, Inspirational Activist
10). BEST COMMUNITY SERVICES: Bali Kids Foundation, Margaret Barry
11). BEST BAR: Charlie Bar and Kitchen – Petitenget
12). BEST VILLA: Luna2 – Seminyak
13). BEST SPA: Cocoon Medical Spa
14). BEST FASHION LABEL: Farah Khan
15). BEST JEWELRY DESIGN: Jemme, Luke Stockley
16). BEST RESORT: The Oberoi Bali – Seminyak
17). BEST AD CAMPAIGN: Plaga Wine – Indowines
18). BEST EVENT: Bikini Tribal Party, Ku De Ta
19). OUTSTANDING ACHIEVEMENT AWARD: Natalia Perry, Safechildhoods Foundation
Outstanding yet again! See you in 2014 for the next chapter. In the meantime may The Yak be with you…