Whether you're a local, newcomer or vacationer, you want to look good, and we want you to look good too. Here's our top picks for man trims. By John Stephens and Alison Bone.
SEVEN Barber
The slicked-back-scissor-slinging-studs of SEVEN are a cut above the rest with seven shops dispersed throughout southern Bali. Established in 2013, they offer close shaves with hot towels, cold beers, homeboy-style service and all of the gooey fixings one might need to tame the mane. With a small army of loyal employees singing along to their iconic slogan, "Barber for Life", it's no wonder they've achieved so much. So, for those who like it greasy or matte, pay them a visit, they accept walk-ins and reservations. And if you're not quite sure, fear not, their walls are covered with photos of handsome heroes from bygone days to inspire you.
UNION Barber by SEVEN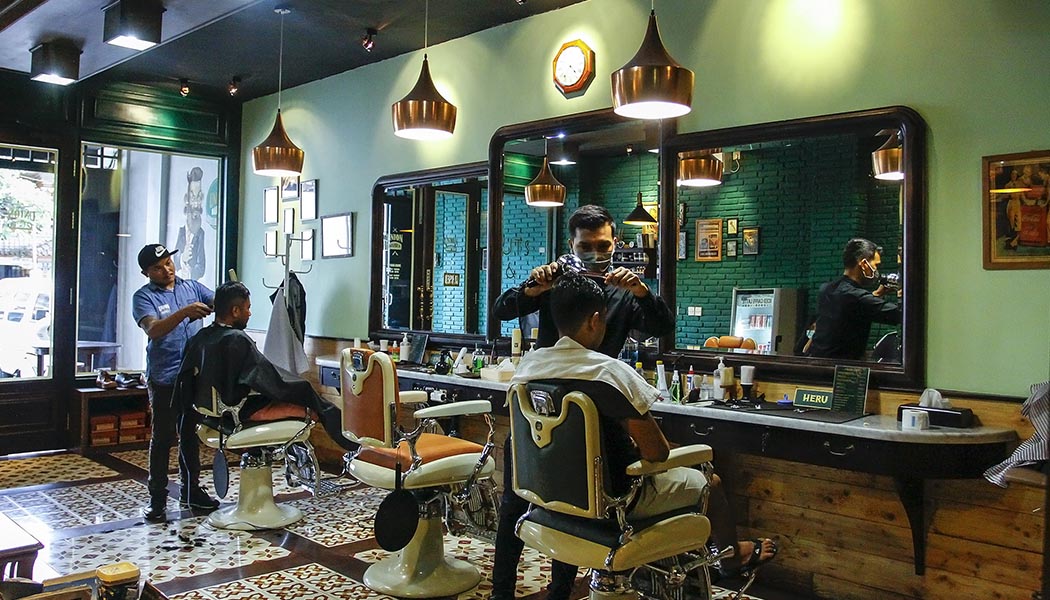 Just far enough off of Legian to avoid getting singed are the super dapper styles of Union Barber, Bali. These gentlemen possess the skills and blades to craft any mouldy pile of hay into James Dean. This is the kind of place Ponyboy and the rest of Outsider crew would go to get 'done up'. Their classic fifties-style hot seats and tiled floors fuse with hunter green brick walls and industrial lighting to create a nostalgic men's grooming space that even Elvis would be proud of. And, in addition to close shaves, cold beers and friendly service, they offer smart men's shoes and boots – blue suede ones coming soon!
www.facebook.com/unionbarberbali/
TOKIO Barber by SEVEN
If you ever find yourself in the middle of Denpasar thinking, "I really need a haircut", check out TOKIO barber. This modern twist on old school barbershops has a lighter atmosphere, think gin not whiskey, and can turn your vacation scrubby into work ready in a matter of minutes. The shop's bare cement walls and industrial décor resembles an automotive shop. No wonder there are usually a few men there waiting to get tuned up. But don't let this detour you. Their attention to detail and all-inclusive customer service is the reason for their popularity. And yes, they also serve ice-cold beers.
www.facebook.com/pages/Tokio-Barber/1854203748159994
THE ROOTS BARBER SHOP
This slick outfit offers a gentleman's grooming service and even makes its own water-based pomade for the ultimate slickback. Located on the Pantai Berawa road it's a handy pit stop for a beard or moustache trim on your way to hipster central Canggu. You could also take it all off with a straight razor shave followed by a hot towel facial and a head and shoulder massage. The motto is 'old school but never old fashioned' and the exposed brick walls, distressed mirrors and retro outfitting create just the right air of nostalgia, while modern industrial lighting brings it firmly up to date. Black and white prints on the wall include a fabulous shot of the greatest himself, Mohammad Ali, getting a trim. You will also find branches in Jakarta, Surabaya and Batam.
DORSEY'S BARBER SHOP @ DEUS
Atmospheric antique Indonesian wooden house meets vintage rock n roll barber shop right in the heart of Deus. Throw in some retro tunes and a former pro surfer who also happens to be a great hair stylist, and you probably have the hippest barber shop in Bali – but what else would you expect from Canggu's kings of cool? Drop by for a hot towel shave, hair cut, tattoo or a beard trim, (remember beards are good, but just like a board they need to be shaped.) Combine a hair cut with a Hot towel Str8 Razor shave and get an ice cool beer or shot of Jack Daniel's on the house.
www.facebook.com/dorseysbarbershopatdeus/
The Barber of Bali
Bali's original barber shop comes with the works including a man spa, so you can have a cut and shave, then get your nails trimmed, have a gentleman's facial and chill out with some hot stone reflexology. Handy head shots plaster the wall in case you need inspiration for a new look, while cold Bintangs and shots of Bourbon will help pass the time. You can also stock up on all the trimmings, from classic wooden beard combs, to hair tonics, pomades, cool t shirts (including kids sizes) and cigars. The Groom's service will get you all spruced up for your big day, while a pop up barber shop at your villa will take care of your groomsmen too.
The Headmost
Service is simple, no mess no fuss, and a Gentleman's cut with wash and beard trim will only set you back RP100,000. The cosy Berawa branch has a classic homey vibe reminiscent of small town American barber shops of the 5o's, but rather than a wizened old timer brandishing a blade and shaving brush, the barbers here are hip young Indonesian dudes. The vintage burgundy sofa and jars of sweets are a great touch. The Sunset Road branch is bigger and has all manner of hair goodies, from pomades to gels, wax and hair muds because as the writing on the wall says, 'good looks bring good luck'.