Indonesian rum – the tipple that history forgot – returns in style with booze brand Nusa Caña. Tony Stanton hit the bottle with ambassadors Marc Rodrigues and Andy Gaunt. Photos by Kelibow @ the Deus Temple.
Good morning guys. First off we want to know from you – as members of the bar – how do you deal with hangovers? Because we have a shocker today.
Andy: That's one thing you have to learn in this business – they're inevitable if you drink too much! After many years in the game, I've learnt (the hard way) that doing what you can to minimise the next day's effects is what it's all about. Enjoy a drink, make sure you drink the best quality you can afford, and drink lots of water. In this industry, I hear all sorts of so-called hangover remedies, most are old wives tales mind you, but for me it's really as simple as loads of water, time and maybe a painkiller or two. And nothing beats getting wet – a good surf washes out the system!
Marc: In my experience in the industry, I'm expected to be first man at the bar and last man to leave, seven days a week. Given this I don't have the luxury of hangovers! But if one does sneak up on me I find a good reason to stay in bed. A hangover is not a punishment for drinking too much the night before but a punishment for not drinking early enough the next day. Or as a wise man once said:  "A hangover is god's way of telling you he's jealous you had a good time."
We'll try both of those, although it's a bit late to stay in bed. Is it too early to start drinking? Let's move on. Can you just tell us first a little about your backgrounds and what you're up to in Bali and beyond?
Andy: Growing up by the beach in south-west England, in Cornwall, a love of the ocean has shaped my life, leading to a passion for travel (and warmer climates!), and probably why we live in Sydney now. I first came to Bali in the mid '90s with a backpack, surfboard and hair down to my shoulders, and ever since that trip I've been drawn back to these islands. To be doing something that puts Indonesian craft back on the world map is fantastic. I've been nearly 20 years in the booze game, generally in marketing and strategy, working all over the world for some of the world's biggest spirit brands. It's been a fun ride.
Marc: Growing up in Australia firstly in Perth as kid and then the east coast as an adult I have always loved the energy and the sense of freedom that comes from the island of the gods, and as a result over the years I made my way here as often as possible. After turning 40 on the top of Mount Kilimanjaro I decided to end corporate liquor life and start my own business here in Asia. I launched a drinks magazine specifically for the bar trade as I felt Asia is the emerging center of the drinks world. This led me to wanting to contribute more and put the region further on the world drinks map, which has resulted in the creation of Nusa Caña along with four great mates. One of my roles in the team is to be here in Indonesia to facilitate this island's visitors and the new modern tribe that have made it their home fall in love with the rum and the brand and help us take both to the world in the future.
Ok so you're here to talk to us today about Nusa Caña tropical island rum, obviously. It's your first foray into the booze world as independents, correct? So why rum, and why Indonesia?
Andy: That's right. We've all spent our lives working on some iconic drinks brands, and we're excited to be able to bring together our personal passions with our professional experiences on our own project. Indonesia has a fascinating and almost unknown connection to rum – in fact it is the grand father of modern day rum. For centuries, travellers, traders and explorers have been drawn to these islands, whether for adventure or for the rich natural bounty. What a lot of people don't know is that for millennia sugar cane has been cultivated here, in fact it is indigenous to this part of the world. We've forgotten that it was cane from here that would have been taken to the Caribbean, a region we now think of as the home of rum. History has forgotten that thanks to the early trade routes, some of the very first rums served in the punch houses and salons of 17th and 18th-century Europe were in fact from Indonesia. When we discovered this story, we knew we had to do something, and that is when Nusa Caña was born. It's a new island rum that's bringing back the forgotten spirit of those very first adventurers and the rum they discovered.
So you're using sugar cane from Indonesia to resurrect a pre-colonial tipple. Cool.
Yes. Crafted on Java, the original home of Indonesian rum, the heart of Nusa Caña is a rich Indonesian sugar cane spirit. To create it, Javanese sugar cane molasses are slowly fermented with pure, forest-filtered water and red rice cake. The resulting liquid is distilled in ancient Chinese pot stills and then matured in Javanese teak casks, before being blended for today's tastes. This traditional craft has been carried out this way for at least 400 years, and probably longer. We blend this rich and exotic heart to create a modern rum that is smooth, approachable and friendly, and our name reflects this – Nusa of course meaning island, the heart of our rum, while Caña is a nod to the international and modern world of rum today. We think that we have a great product that can put quality rum from Indonesia back on the map, both here and across the world.
Andy: Tell us a bit about how you came up with the logo and branding for Nusa Caña.
While we aim to put Indonesian rum back to the world, the soul of the brand is inspired by what we feel is the heartbeat of modern Indonesia – Bali. This is an island that all of us have strong connections to, and we love its heady mix of ancient days and modern nights. We wanted the brand to capture this mix, while feeling playful and vibrant, like the island's attitude itself, and we've worked on this with a great design team – a mix of local and international designers. The barong mask is our artistic interpretation of the 'King of the Forest' done by Stevie Anderson, a young UK designer now based here in Bali, and the visual colour scheme was inspired by the late Dutch-born Balinese artist Arie Smit, paying tribute to the island of the gods and Indonesian culture. We've blended these traditional references with a modern design style that we think gives us a fresh look that really stands out from the crowd. Along with the rich and ancient culture, the island is a playground of fun and adventure, and we wanted to capture these contrasts through the branding. Whether it's the deep blue colour palettes used in traditional batik craft, that we've blended with ocean and island scenes, or the graphic style developed by Sydney based agency Bold Inc, or even the street art that we've seen around the island, there is a bucket load of inspiration for us to work from here, and each element tells its own story of the island life we enjoy.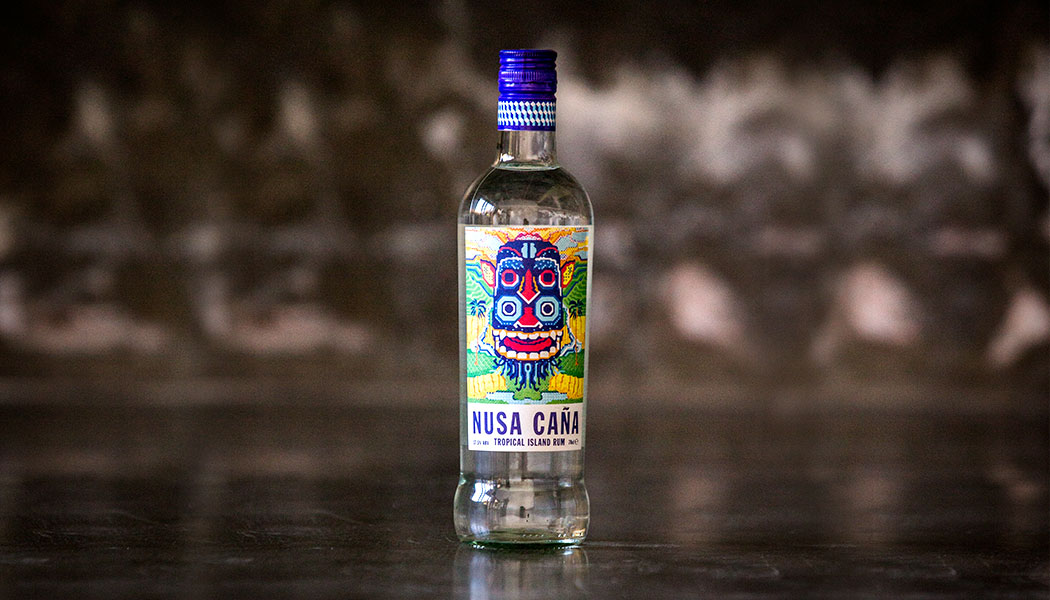 Marc: Tell us about the rest of the team behind the brand, and what you hope to achieve in Indonesia…
Our team has over 100 years booze experience and covers all aspects of marketing, mixology, commercial sales and fun times. As well as Andy who you have now met, we have Sam Jeveons our liquid creator and mixology expert. Sam was at the centre of the cocktail explosion in London in the late '90s early 2000s before moving to Asia, where he has consulted on many of the regions great bars. Joe Milner our commercial man has worked around the globe and has sold most of the world's great spirits across the region for the last decade. Finally our understanding of all things Bali and Indonesia – as he has made it home for the last six years – is Dre Masso. Dre is easily labeled a global drinks legend.
Marc: Where are we most likely to see you hanging out?
I will be wherever there is Nusa Caña, enjoying it over lunch at a beach club, during sunset, wherever that maybe, and then at a cocktail spot before and after a great meal somewhere on this island. I'm hoping to be another one of those men about town here spreading cheer and Nusa Caña tales all over the island. To the trade out there I will be at your bar, on your lounges and beanbags and regrettably on your dance floors until the job is done and the island loves it's very own rum.
Ok so if we clock you in a bar can we hit you up for a Nusa Caña tester? How would you recommend we drink it?
For sure you can – I'm always up for a drink and chat! I recommend it mixed with ginger beer when you're parched after a surf, at the end of a jungle hike or watching the sun set. If you're out to impress then dress up a classic mojito or daiquiri, Nusa Caña makes both of those local and amazing. But as Brian Flanagan once said (and I totally concur) "If you want to get loaded why don't you just order a shot, Bar's Open!"