Dustin Humphrey heads north-west to Menjangan. Words: Tony Stanton.
"WHEN I first heard the word 'glamping'," Deus Ex Machina chief and famed photographer Dustin Humphrey told us, "it sounded a little pretentious." So, always up for a challenge and in typical Yak fashion, we decided to send him on a little expedition – of the glamorous camping kind.
His destination was Menjangan Dynasty Resort, Beach Camp and Dive Centre, all the way up in the north-west of the island, close to the point where Bali meets Java. It's billed as 'the ultimate glamping resort', and we were curious to know how he'd get on.
The first of its kind in Bali, the resort is designed to blend with the environment and provides a host of natural encounters through activities that include snorkeling, diving, trekking, mountain biking, kayaking, bird-watching and horse-riding. It sits on 16 hectares of land on a quiet peninsula beside a white sand beach and has been created to cater to outdoor adventure enthusiasts with an appetite for indulgence. It goes all out to fulfill this glamp dream.
"When we arrived," said Dustin, "we were greeted by a safari-suited GM, not something you see every day in Bali. Surprisingly enough the outfit complimented the environment and didn't look out of place at all. Dede was a gracious host and the vibes started off great right away."
The resort's position in a bay protects it from the sea, and offers a spellbinding vista that extends across the gentle waters of Banyuwedang Bay to the lowland forests of the West Bali National Park, taking in a mangrove-entwined coastline and the tiny uninhabited island of Menjangan, the craggy north-facing folds and ridges of the Tiga Saudara Mountains, and East Java's volcano alley.
"We were given a tour of the resort by golf cart," said Dustin, who's been around the planet as a photographer for the world's biggest surf magazines. "We quickly realized that this was not a pretentious place at all, but rather a very well thought out destination. We arrived at our room, which on further inspection was a beautifully designed tent made of thick canvas, accented by furniture that suited the aesthetics."
The safari-style tented rooms and villas, combined with a series of magnificent communal spaces crafted in bamboo and 'alang-alang' thatch, present a refreshing alternative in architectural style and five-star flair.
"For our first experience, we made our way down to the Putih Pasar beach club, where we grabbed some paddle boards and proceeded to paddle around the Banyuwedang Bay.  Once we reached the middle of the bay, we had a perfect view of the Baluran Volcano, which was awesome," said Dustin.
The glamping resort's signature Pasir Putih Beach Club and Bar offers all-day dining, as well as the opportunity for romantic dinners in the setting of your choice.
"In the evening, we had drinks at the resort restaurant overlooking the bay with a lush mountain view in the distance and colorful sunset clouds hanging above," said Dustin.
And then of course he had to check out the activities on offer. "We woke up bright and early the next morning and got on a beautiful local boat. Our first stop was Menjangan Island for some scuba diving and lunch on the island."
"Our dive guide, named Bram, was enthusiastic and an excellent guide, and on our second stop at Taman National Bali Park we saw a black tip reef shark and a sea turtle. "Menjangan is possibly north Bali's best kept secret, and if you haven't visited, you should. It sits about five miles off the coast in the Bali Barat Nature Reserve, and it possesses some incredible natural riches. Menjangan in Indonesian means 'deer', and the name was given to the island for that very reason: locals observed herds of wild deer swimming to the island every spring over a distance of around 1.2 miles, and to this day it is home to a population of quite magnificent specimens.
"The biggest highlight of our trip was when we were climbing onto the boat after the second dive and we saw two deer, a doe and a buck, walking down the cliff edge of the national park. Then they proceeded to go for a dip in the ocean. Beautiful."
Luckily he caught the moment on camera, which is mostly the reason why we sent him. His images on these pages show the majesty of an area thankfully protected from the vagaries of overpopulation, pollution and progress.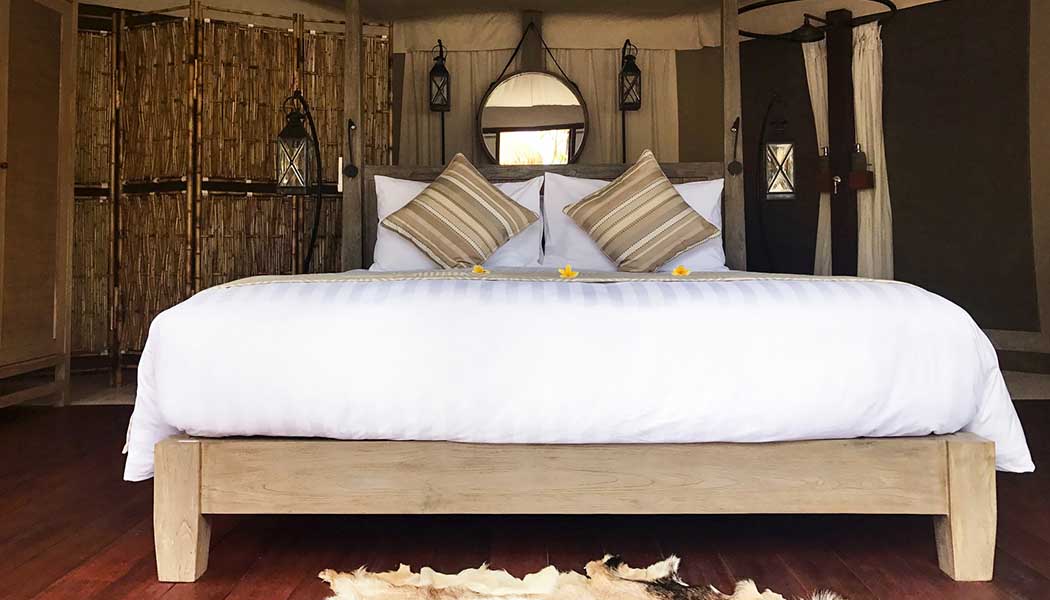 "Back at the resort, the spa was calling our name," said Dustin. "I've had many massages at many resorts," he said, "but this would rank among the top. In open air tents, overlooking the bay, it was a perfect setting: luxurious yet simple at the same time. A great balance. Afternoon tea at the infinity pool, was the perfect ending to a great experience, I can't recommend it highly enough."
Glamping conversion project completed.