When it comes to creating an epic new restaurant, the team at Potato Head know a thing or two … particularly when it concerns local flavours. Ondy Sweeting goes ethnic fine dining.
KAUM is a stellar addition to Bali's culinary scene as Potato Head's exploration of tribal foods.
If you fancy something unforgettable begin in a traditional holiday position of sitting on a deck watching the sun sink into the ocean, listening to smooth tunes and rolling waves while sipping an Indo 75 – Potato Head's version of a French 75 – with lemongrass infused gin, lemon juice, mint and sparkling wine. Then enter Kaum – a realm of contemporary style with clean lines, square tables with comfortable chairs surrounding a long timber shared table that is at the centre of this buzzing dining room.
Kaum loosely translates as 'clan' from Bahasa Indonesia and the menu is tribal fare extrapolated to high-end dining and a collaboration between PTT Family creator Ronald Akili, chef Antoine Audran – a long term expat native to France – and famed Indonesian culinary activist Lisa Virgiano.
The menu is an exercise in the anthropology of Indonesia's vast archipelago, which has more than 17,000 islands, according to the CIA World Factbook.
Chef Antoine and Kaum brand Ambassador Lisa Virgiano trekked to remote areas to unearth unusual dishes and flavours that are largely unknown outside of the indigenous region.
Virgiano cares little for flavours and textures but is fixated on the origin of foods and ingredients. This is the woman behind Jakarta's Underground Secret Dining where native Indonesian cuisine is served at evenings in cemeteries and ancient buildings.
Happily Chef Antoine is in charge of the menu that offers a rare insight into the extraordinary flavours of Indonesia and is supported by a fabulous team of well-educated wait staff who are friendly and fast.
Begin with the Goho Ikan Tuna, which is from the Maluku region near West Papua. The delicate flavour of the fish is enhanced with a marinade of coconut oil, citrusy calamansi and fresh belimbi, part of the star fruit family. This is topped with crunchy almond-like kenari nuts and a sprinkle of ginseng leaves. Such a combination of acid over soft fish puts this dish at the front of the feast since the fine flavours are easily doused by the  pungent herbs and spices of curried sambals. Then indulge in the Gulai Udang Aceh – slow-cooked prawn tails in a lush traditional curry flavoured with okra and subtle plantain from Aceh in northern Sumatra.
These dishes are not only taste bombs of complexity they are also packed with medicinal plants. The Ikan Lele Sambal Tangkil – pan-fried catfish fillet in spicy green chilli – features a melinjo relish. Melinjo leaves are an antioxidant super food that reportedly helps alleviate anaemia and some eye problems.
In fact, Chef Antoine loves to honour the medicinal herbs that appear on much of Kaum's menu, including salt from the North Bali seaside village of Amed, which is highly mineralised.
"It's amazing how many recipes develop over time to become cures for a range of conditions. Herbs are widely used as medicine in traditional cultures and so they are in our foods too," he says.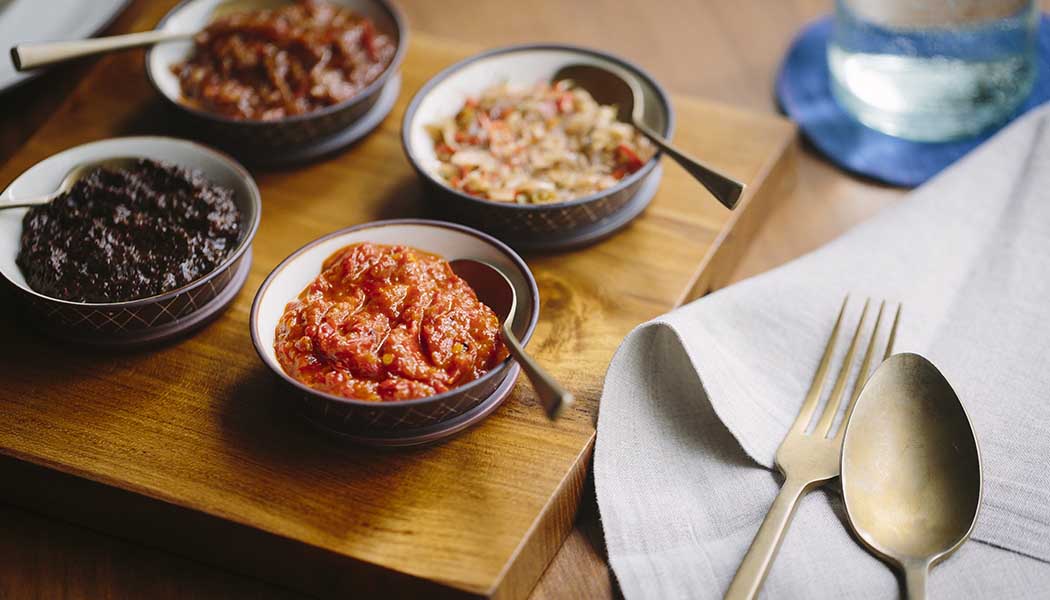 Another standout both medically and taste wise is Bobor Daun Kelor Kelapa Muda – moringa leaves and snake gourd stewed in coconut milk and served in the shell. Moringa is used as a treatment to reduce swelling and to treat diabetes, high blood pressure, arthritis, kidney stones and asthma. As a dish is has refined flavours that are exquisitely tropical and balmy. The yellow rice is spiced with turmeric, which is now considered to be the world's most powerful plant for fighting disease, and cooked in coconut milk. It's ethereal.
Explore Indonesia through Kaum's sambal selection of five unique sauces. Sambal Rica Rica is crafted from lemongrass, red chilli, ginger and lime juice and showcases fresh flavours, while the Sambal Ikan Teri Bakar is sharp and salty from whitebait and spiced with red chilli relish. The Sambal Matah – a personal favourite – is the perfect melange of shallot, lemongrass, torch ginger, coconut oil salsa and red bird's eye chilli that puts the heat on. The black Sambal Kluwak was more refined than its liquorice-like appearance would suggest.
Kaum's approach is certainly different to the recent trend of swank Indonesian diners with Chef Antoine and Lisa working with hand-picked tribes from 600 indigenous groups. Virgiano studied food's relationship to Western culture as well as the philosophy of rendang while Chef Antoine trekked to Toraja to learn how to make dishes that are wrapped in banana leaf and grilled inside bamboo.
Balinese offerings are far from common with the delicious Sate Bentel Dengan Acar Rujak being a multi sensory experience of fat lamb hewn into a sausage then skewered and grilled as a sate. The spices perfectly compliment the richness of the lamb.
The dessert list is interesting and delivered an exceptional Klappertaart that acknowledges Indonesia's Dutch colonial past. This heady oven-baked coconut bread pudding is caramelised on top and packed with plump rum-soaked raisins, lightly dressed in chocolate meringue and served with coconut sorbet.
While Kaum has an impressive wine list and some cracking cocktails, the menu sang a pink song and the French Lavau Tavel Rose Grenache-Cinsault-Syrah was unquestionably perfect for the diversity of flavours.