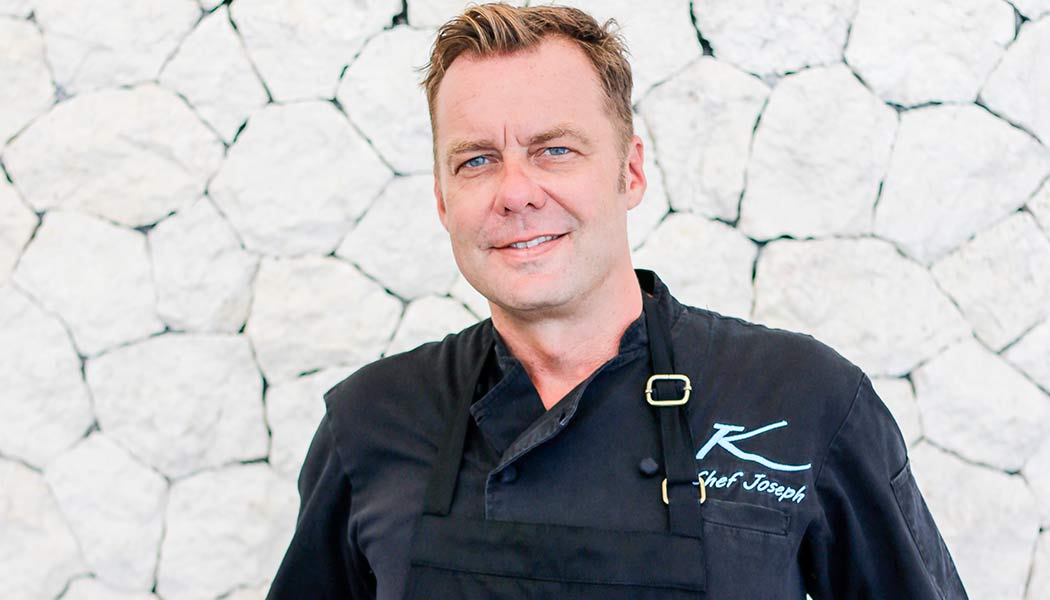 The Yak went cliffside to Di Mare at Karma Kandara to catch up with Exec Chef  Joseph Antonishek, and asked these relevant – and sometimes irreverent – questions:
Name your kitchen:
"Friends & family!"  I feel very lucky to lead the diMare team.  We operate in a one for all, all for one team- oriented manner.  Each team member is very talented and all are working towards our vision.
How long have you been in Bali and where were you cheffing before?
This march will be six years! I love Indonesia- it's home!  Prior to moving to Bali I was cheffing in Los Angeles after training in New York.
How tall were you when you cooked your first dish?
Less than 100cm, I was four years old but short for my age at the time.   The kids at school used to call me shortcake.
What was it and whose recipe did you follow?
I was helping my mom bake bread.  She has a great picture of me in my pajamas with a rolling pin, covered in flour and my toy army helicopter on the counter.
Who influenced you to become a chef?
My grandfather and Thousand Island Salad dressing.   I was nine years old at our cottage in Canada.  I asked my grandma for Thousand Island salad dressing which we were 86'd.  My grandfather got up from the table mixed ketchup, mayo and pickle relish together.  From that point on, I was intrigued how food was made.
Your first very own set of knives? And which brand?
Forshner with wood handles.  I received them when I was a student at The Culinary Institute of America- Hyde Park, NY.
Make us a picnic.
Tartine of smoked butterfish with crème fraiche, my favorite new salad of halved green grapes, tarragon & quick pickled red onions- you'll be seeing this on the new Karma Beach Club menu. Ubi potato chips (the crispy wafer kind), marinated olives, thinly sliced Jambon on baguette with French butter.  Rose from Provence, and maybe some oysters just for fun!
Your best hangover cure?
www.soberup.com a liver detox we offer at Karma.  Pop two of these and thirty minutes later you're ready to crank out 180 covers for breakfast.  It's magic in a bottle!
Name your top garnishes.
Borage blossoms, coarse sea salt – because it has purpose and passion.
Top three herbs?
Kemangi, shiso and tarragon
What turns you on? List the ingredients to your most potent aphrodisiac dish.
Kluwek, kaffir lime, curry leaves and anything spicy!
The weirdest ingredients you have ever used?
"The southern end of a northern bound bull"- Rocky Mountain Oysters. I had a dish at one of my restaurants in LA called Nut Sliders:  Almond crusted bull testicles, Asian cabbage slaw, sweet chili aioli on Kings Hawaiian rolls. They received national fame for a minute when interviewed live by Ryan Seacrest on the Radio.
Your philosophy to cooking is?
Start with perfect ingredients, keep it simple, fresh, exciting and clean.
What most freaks you out in the kitchen?
A slippery floor.  It's the most dangerous thing in a kitchen.
Name your favorite vineyard at the moment.
There's always a bottle of Billecart-Salmon brut kicking around the back of my fridge.  It's never too late to keep a nice evening going, or too early to pop prior to heading off to some exotic adventure!
How important is organic for you and where are you sourcing your organic meats and veggies from?
"Don't Panic- it's Organic" is my motto! I come from a strong farm to table background.  I try to use as much organic seasonal ingredients as possible.   I had a garden bed built at my house in which I plan to grow a variety of heirloom seeds I brought from America as well as interesting seeds acquired through travel.  Unfortunately, I haven't had the time to plant them yet.  Currently, I just have Jinten, curry and kaffir growing.
I am English, I wonder if you know what a greasy spoon is?
Originally being from Detroit we call greasy spoons either Bates Burgers or White Castle hamburgers.  I never knew why they called them greasy spoons until the last time I ate them with my brother prior to getting on a six- hour flight back to LA- I'll never do that again!
How long does it take you to peel and chop an onion? Time yourself please.
Not sure, but I can break a duck down in 22 seconds.
Pinnacle moment in your career?
Burning Man as the Chef of Cirque Gitane. I spent 18 days on the playa with an amazing team I put together of past Sous Chefs that flew in from across America, Mexico and the Caribbean. We built a proper kitchen out of a shipping container.  Packed a 9 meter refrigerated truck with every liter of oil, every protein, and vegetable right down to the last dash of nutmeg to feed 150 people four meals a day – 20 hours a day including a black tie dinner which featured:  whole roasted truffle pigs, caviar, smoked fish, rack of lamb and the center piece of the table was a 15- meter python cake stuffed with chocolate bunnies. All this while battling 40 degree heat and the occasional 128 km/hr sand storms.  I lost 15 pounds in 18 days with the end result being hugely successful and a career achievement.
Name your favourite dip and give us the recipe, please!
Moui ot Xahn! It's a Vietnamese seafood dipping sauce that my girlfriend and I discovered on a recent trip to Nha Trang.  When we returned to Bali, I researched it and recreated the sauce to a T- using local ingredients.  My team at diMare calls it Saos Nano-Nano (meaning all flavors are represented: sweet, spicy, salty, sour.).  We use it on our Bamboo Seafood BBQ every Saturday at Karma Beach.
All you need is a gram scale & a blender!
Place the blender top on the scale and zero it out.
Add:
| | |
| --- | --- |
| Condensed Milk | 80 grams |
| White Sugar | 105 grams |
| Salt | 20 grams |
| Cabe Hijau, Lombok, no seeds | 140 grams |
| Cabe Rawit, hijau, no seeds | 20 ea. |
| Kaffir Lime Leaves, no stem | 15 ea. |
| Lemon Juice | 75 ml |
| White Pepper | pinch, heavy |
Puree all of the ingredients smooth, place in mason jar and chill until ready to use.
If you had to be reincarnated as a dish, what dish would that be?
Coming back as a Kobe steer doesn't sound too bad!  Who wouldn't want to live in the mountains of Japan, fed beer, massaged with sake while listening to music prior to your meat being sold off at prices that demand handling of the most respect and then consumed with the same appreciation!
To you, "Cooking is a meditation, a creation, a…?  an opportunity to create a unique, memorable experience.
How would you cook Green Eggs and Ham?
At Petit Ermitage Hotel- Los Angeles (my favorite boutique hotel in the world). I featured green eggs and ham:   Poached eggs, toasted ciabatta, prosciutto de parma, avocado hollandaise spiked with jalapeno
Which of the jobs in the kitchen helps you de-stress?
Butchering.  Meat or fish doesn't matter.  My favorite way to start my day is with a large mug of strong black coffee, razor sharp knives breaking down whole animals or bounty from the sea.
Who do admire in the world of cheff-ing today and why?
This is a hard one.  Because there are so many Chefs in Bali producing amazing food!  The Bali food scene has really exploded over the past 6 years! But if I had to pick one Chef I admire the most would be Jean Georges Vongherichten.  I was his saucier at Jean Georges, but what really sets him a part for me is there are only a few Chefs that are delivering such a high standard globally.
What is your Instagram?
Joecheftraveler
One last word of advice to ours (and your) followers? 
Wash your hands, brush your teeth, never go to bed angry, travel as often as you can and if you love what you do, you'll never work a day in your life!
Thank you for taking the time out. (Now can we eat?)