Get relaxed at The Samsara.
Right in the middle of an untouched tropical haven lies Samsara Ubud. Located in Desa Kelusa, Payangan, Samsara Ubud is the crème de la crème of laid-back luxury offers an exceptional sense of calm, yet is only a 20-minute drive to the bustling town of Ubud.
Samsara Ubud has been designed by one of Indonesia's acclaimed and award-winning architects, Popo Danes, to be in complete harmony with nature by taking the natural land contour into account. The integration of sustainable design strategies can also be seen from how the original contour of the land is maintained. The multi-level and layered architecture is a tribute to Bali's centuries-old rice terraces, providing all villas with views of the lush tropical jungle.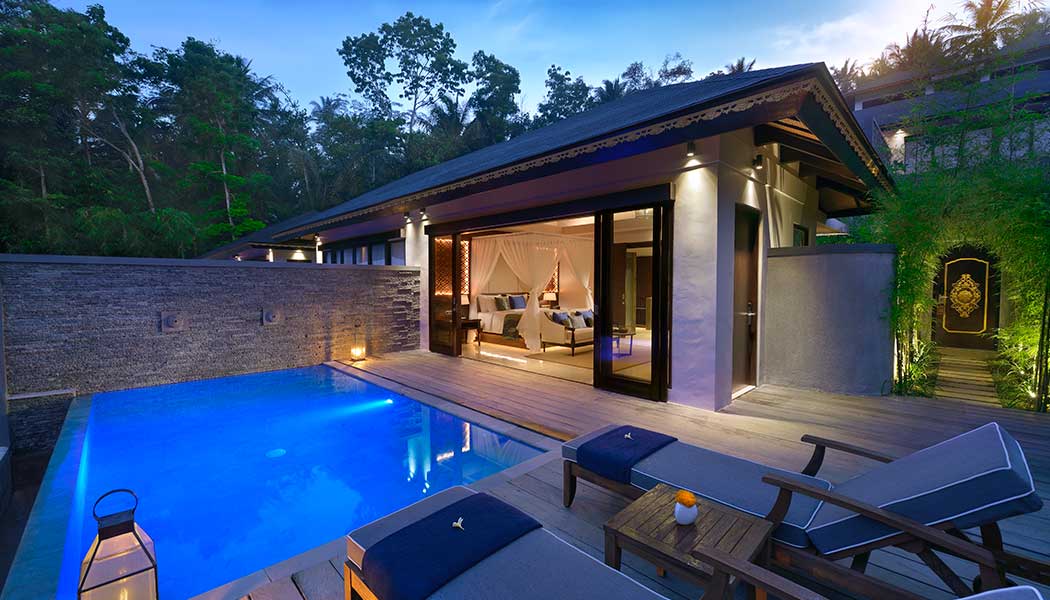 With total of 17 luxury villas, each unit offers the ultimate luxury with the smallest 1-bedroom pool villa measuring 122-square meters connected with a heated infinity pool and a spacious outdoor area to the newly opened two-storey of 2- and 3-bedroom pool villas, make the resort ideal for romantic interludes and honeymoons, but also lends ourselves to pampering trips for groups of friends, lifestyle retreats and weddings. A mix of contemporary Balinese décor, rich teak furnishings and exotic fabrics create the villas' statement interior.
The newly built 2- and 3-bedroom pool villas have been completed in July 2018 and equipped with heated swimming pools, expansive living room and elegant dining rooms perfect for traveling couples or families. These newly built villas are located on the upper part of the property and imagine waking up to total calmness and sounds of nature with magical uninterrupted views of morning mist and the lush rainforest.
All the pools at Samsara Ubud, both in the villa and the main pool are heated, making an early morning dip to take in the beauty of the misty sunrise very tempting, as is spending an evening stargazing as you watch the fireflies flit around.
For those seeking privacy, there is no need to ever leave your private sanctuary. The villas are designed for lazing around listening to music, watching TV, or playing one of the resort's selection of Indonesian and International board games, while in-villa dining arrives.
Guests can revel in the impeccable cuisines from Samsara Ubud's magnificent dining venue, The Kelusa which boasts an innovative menu of fine-quality ingredients highlighting the best local produce, guaranteed to satisfy even the most discerning foodie. Under the wings of Chef Iwan Sutrisno, you are in for an epicurean treat.
For sundowners or pre-dinner aperitif, head to Firefly, the restaurant's cocktail bar – the experienced mixologist serves wicked cocktails. One of the signature cocktails, 'Popcorn Sour', is a delicious drink ideal for before/after lunch, made of a playful mix of popcorn and Vodka sour. Connoisseurs of fine wine will find plenty to please their palettes at Samsara's wine cellar. Apart from acclaimed wines, the bar features an array of cocktails and mocktails which reflect Bali's fascinating colours and fresh organic produce.
Samsara Ubud has also just launched a one of a kind afternoon tea. Served on a keben (traditional basket) and a dulang (wooden stand board) by the staff dressed in traditional getup at the resort's Jineng, the Balinese Afternoon Tea at Samsara Ubud is inspired by the enchanting Balinese culture. Revel the wide selection of Balinese loose-leaf tea, paired with Balinese inspired light bites. The sweet selection features pisang goreng, dadar gulung, bubur injin, and many more while the savoury snacks include sate lilit, tum ayam, lumpia sayur and others. Available daily from 2 p.m. to 3.30 p.m. and from 4 p.m. to 5.30 p.m.
Guest can now enjoy movie nights at the brand new Moonlight Cinema which has been carefully designed to give guests a comfortable yet romantic setting while watching old classics to modern movies. Equipped with luxurious bean bags and the backdrop of the Payangan jungle, Moonlight Cinema at Samsara Ubud will provide guests with an unforgettable cinematic experience under the glistening stars.
A sublime retreat, Samsara Ubud is also convenient for exploring the heart of Bali, with the famous Tegalalang Rice Terrace, Goa Gajah Temple, Campuhan Ridge Walk, Tirta Empul and the world-famous village of Ubud which renowned for its culture and food destination.
To soothe your soul, Chakra Spa provides you with the ultimate beauty and relaxation experience. Chakra Spa at Samsara Ubud is a temple of wellbeing where you can truly take care of yourself and take the time to relax. Chakra Spa's experienced therapies, a range of treatments featuring soothing massages and rejuvenating body scrubs will help you achieve a perfect state of relaxation. Other leisure facilities include a fully-equipped gym, a sauna and a heated outdoor pool.
Samsara Ubud is the perfect choice for your upcoming Bali getaway and will surely be a popular destination for guests seeking absolute tranquility and relaxation.